Most of my twitter feed consists of fraternity and sorority accounts. And while I have seen hardly any of the "All but two U.S. Presidents…" graphics this year, thanks in great part to Dave Westol's efforts, I am seeing some of those pesky references to sorority "babies."
Yes, sorority "babies,"  the women who have just made a commitment to be a member of a National Panhellenic Conference organization. Yes, the young women who have graduated from high school, who have applied and been accepted to colleges, and who have done a tremendous amount of curricular activities, volunteer hours, and studying to get there. Some groups of these highly accomplished young women, once they accept sorority bids, will be known as "babies."
How did this happen? Until the late 1990s, the women who made a commitment to join an NPC organization were known as "pledges." At that time, the approach of a new century, the effort was made to change the terminology associated with women who wanted to join the NPC organizations. "Rush" became "recruitment." "Rushee" became "Potential New Member" or "PNM." "Pledge" became "New Member." 
It appears that some chapters did not enjoy the term "New Member" and chose to substitute something else, with something that defined the relationship with a little more emphasis on status, or lack thereof. Babies are the most helpless among us and need assistance for all their daily needs. They're usually cute and irresistible, but I don't think the term's usage in this instance came from that quality.
We, collectively, are shooting ourselves in the foot by calling the women who want to become dually initiated members of our organizations "babies" or any derivative, i.e., "baby upsilons, "baby omegas," "baby psis."  I doubt anyone would call any of their organization's founders a "baby," least of all to her face, as is being done to some of the women who will follow in those founders' footsteps.
The women who are wearing the new member pins of  the NPC organizations are planning to trade it in for an official badge. We need to help them become members who will value the history of the organization, who will reflect credit upon it, and who will support it with their time, talents, and treasure for the rest of their lives. Our collective futures depend on it.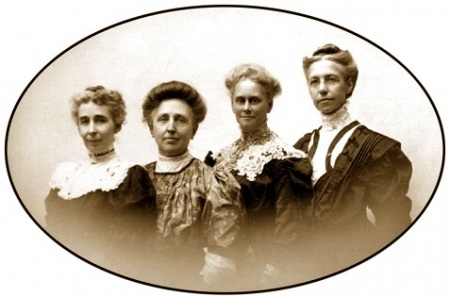 The pictures are the ones I could easily find in my media library. I am in no way singling these organizations out. I am merely suggesting that unless our members want to refer to these founders as "babies" then no women who join the organizations in 2016 should be referred to as babies.
© Fran Becque, www.fraternityhistory.com, 2016. All Rights Reserved. If  you enjoyed this post, please sign up for updates. Also follow me on twitter @GLOHistory and Pinterest www.pinterest.com/glohistory/