This past Tuesday marked my last time hitting the gavel at the Rotary Club of Carbondale-Breakfast meeting. Except for opening the year-end changeover dinner tonight and writing a report or two, my term is over. A year-end report is required and here is mine.
Rotary International began on February 23, 1905, in Chicago, Illinois (see http://wp.me/p20I1i-22E). It grew to the west coast first and later to the east coast. My friend Eric Drumheller (see http://wp.me/p20I1i-1Gl), Phi Gamma Delta's representative to this year's Fraternity and Sorority Archivists Conference, is a member of the Lincoln, Nebraska Rotary Club, founded in 1910 as the 14th Rotary Club in the nation. He spent the year as secretary of his club, checking the 300+ members in to each week's meeting. My club has a tenth of his club's membership. In Champaign, for the conference at the beginning of June, we both had started our countdown clock to the end of our respective terms.
My year as Club President started in July 2015, after I returned from the Pi Beta Phi Convention. I agreed to step up a year early because the woman who was to be President before me asked if we could switch. With 20-20 hindsight, I would have declined, but I didn't and luckily I lived to tell the tale (barely!).
The RCC-B sponsored several high school students to the Rotary Youth Leadership Academy (RYLA) which took place at the end of July. We helped sponsor a CommUnity Dinner for students interested in joining the Rotaract Club at Southern Illinois University Carbondale and we provided a scholarship for our outbound exchange student who was off to spend a year in France.
The club has adopted a spot to clean up. It's along the route most people use to come to SIUC, so we planned a clean up just before the semester started. It was a hot August Sunday morning, but I was able to get some help from visiting family members by promising to take them to a restaurant for breakfast after we were done.
One of our fundraisers, coordinating a Community Yard Sale at the SIU Arena, took place on September 12. It was followed by a mum sale, the proceeds of which were donated to the Boys and Girls Club of Carbondale.
In  late October, with support from the Friends of Carbondale Public Library, we distributed nearly 400 dictionaries to all the third graders in the elementary schools which feed into the Carbondale Community High School district. The students love to get a book of their own and the club members delight in distributing the dictionaries. The Friends gave each student a coupon for three free children's books redeemable at its fall book sale.
On Halloween, the club held Great Pumpkin Race. Participants use pumpkins, adding wheels and decorations, and then they are raced down a hill. The event netted $2,400 which was given to the Women's Center. A 50/50 raffle at the event brought in $200 for the Good Samaritan House.
Another $200 for the Good Samaritan House was raised at our Holiday Social on December 15. The gift exchange had a twist this year. A fee was charged to "steal" gifts.
A Club Assembly took place on Saturday, February 12, and it lead to a restructuring of the club and a by-laws revision which I think will serve the club well as it nears its 30th birthday.
A Pay It Forward day at the S&B Burger Joint in the University Mall in early April gave members the opportunity to talk to diners about the club and ask them to tell their server that a percentage of their bill could be donated to the club. The proceeds will help the club sponsor high school students to the 2016 Rotary Youth Leadership Academy this coming July.
The Beautiful Southern Ride took place on April 9. While it was a little colder than usual, the participants thought it was a great ride.
In late April members had the opportunity to help out at the Murdale Spring Carnival for Boys and Girls Club and at a booth at the SIUC Civil Service Council Yard Sale.
At each weekly meeting, a pig is passed around to collect contributions to the scholarship fund. Members can opt to go "whole hog" and feed the pig just once at the beginning of the year or "half hog" at the middle of the year. In May, three scholarships were awarded to Carbondale Community High School graduates.
The club was awarded a District 6510 grant to help install bike racks at the new Splash Park. Due to circumstances well beyond our control, the bike racks (and the entire Splash Park) were casualties of the quagmire that is Illinois state politics. Instead of opening as planned on May 31, 2015, the Splash Park was not completed and opened until a year later. The bike racks were installed and the paperwork for the grant were completed days before the absolute final deadline. I have it on good report that the bike racks are being used.
There are some other items I'd like to add about my year. There is the memory of DeMarcus Huddleston (see http://wp.me/p20I1i-2jE) attending a business meeting with the intention of becoming a member and without me having the opportunity to talk to him about Theta Xi.
There's the excitement of our outbound Rotary Youth Exchange student, Juliette, who is going to Slovakia for the year. Her mom is a Gamma Phi Beta and a new member to our club.
There are thanks to the members who attend our fifth Tuesday potluck socials, with special gratitude to Joyce Hesketh for her decorating skills.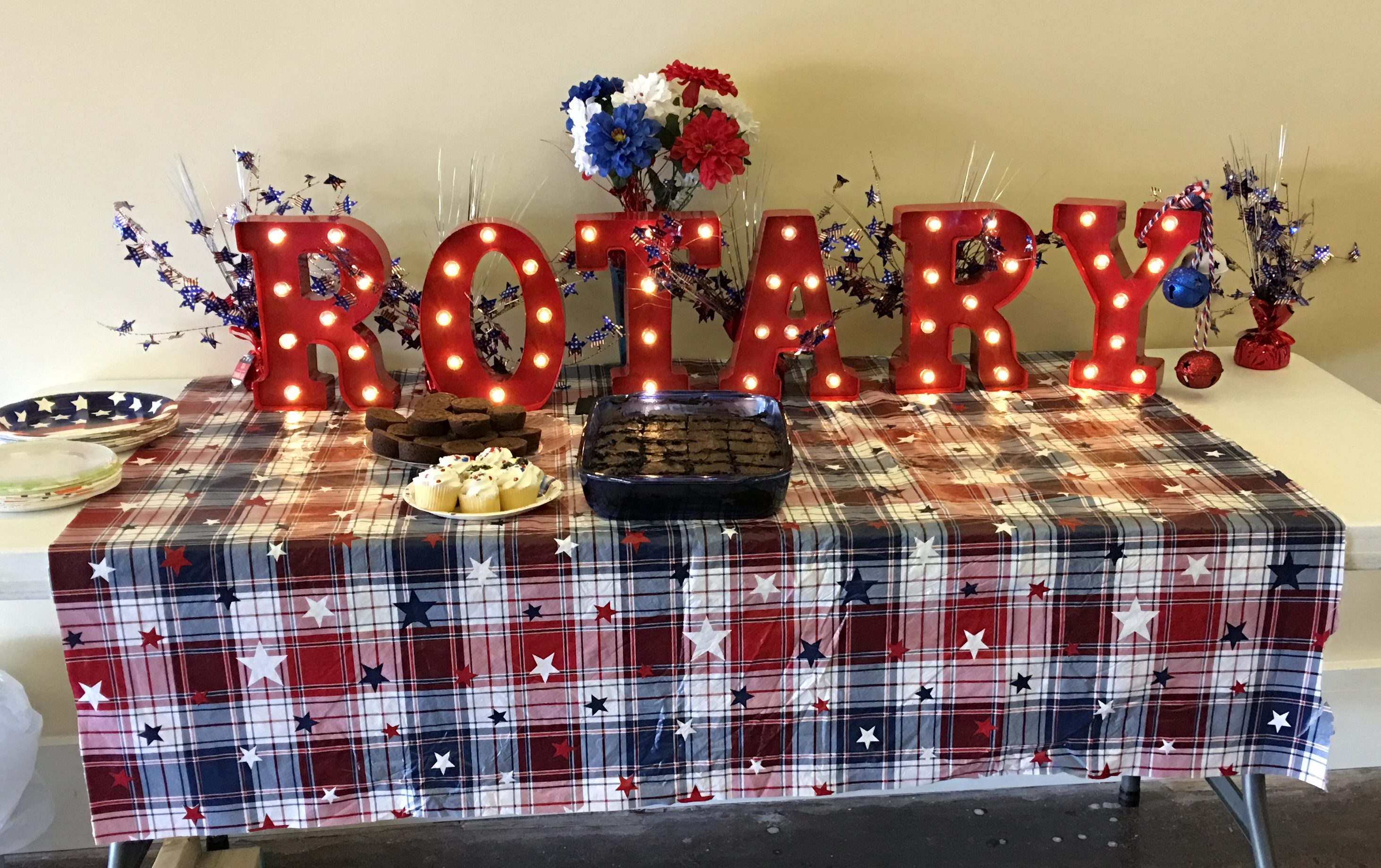 I would be remiss if I did not mention two very special women, both charter members of the club. They are pictured below, a few months ago, at a Saluki Women's Basketball game. On the left is Marcia Sinnott, a mentor extraordinaire and one of the first women to be a Rotary club president, since our club was chartered just as women were allowed to join Rotary. On the right is nonagenarian Blanche Carlton Sloan, the first female District Governor in our district. She is a graduate of Huntingdon College and she earned a Ph.D. from Southern Illinois University Carbondale. She is also a P.E.O. She encouraged me to join Rotary even though our Monday night P.E.O. meetings and the Tuesday at 7 a.m. Rotary Club meetings could present a bit of a challenge.
If you are in the market for a new swivel rocker and don't want to pay $1,100, we have one we'd be happy to sell to you for $450 with all proceeds going to the Rotary Club of Carbondale-Breakfast.
As I end this tome, I'd like to thank those members I knew I could count on week after week. Your loyal support sustained me and I appreciate it beyond words.
© Fran Becque, www.fraternityhistory.com, 2016. All Rights Reserved. If  you enjoyed this post, please sign up for updates. Also follow me on twitter @GLOHistory and Pinterest www.pinterest.com/glohistory/